Services at Caring Hands Veterinary Clinic
At Caring Hands Veterinary Clinic in Philadelphia, we believe that it is better to prevent a medical issue than to cure it. To that end, we offer wellness packages that help pet owners provide preventative care to their pets. These health plans include essential vet services that all pets need during the first year of life. The plans include both core-vaccines and some non-core vaccines which will strengthen a newborn pet's health.
The health plans cover sickness exams as well as deworming, intestinal parasite screening, heartworm testing, and screening for other tick-borne diseases. All pre-surgical blood work and surgeries are also covered by the health plans. Our health plans also cover your pet if you want your pet spayed or neutered which our veterinarian highly recommends.
Immunizations/Vaccinations
Immunization is crucial to preventing illnesses in your pet which could become fatal. Our vaccinations for dogs include Rabies, Distemper, Leptospirosis, Lyme, Bordetella, and Canine Influenza. Our vaccinations for cats include feline Rabies, Feline Distemper (FVRCP), and Feline Leukemia.
Dental Care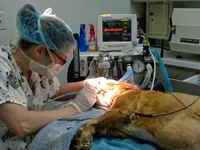 We offer dental cleaning and polishing so that your pet has clean and strong teeth. Dental care ensures that your pet will also have fresh breath, avoids gum diseases, and prevents other dental issues that threaten the health of your pet.
Surgery
Your pet may be seriously injured and the only course of action may be surgery. There are other medical conditions that can only be remedied by surgery such as cancer. Some of the common surgical procedures we offer at Caring Hands Veterinary Clinic include spaying, neutering, c-sections, ear hematomas, tumor removals, declawing, bladder stone removal, knee surgeries, and entropion surgery.
Digital Radiography
A digital radiograph allows us to take high definition pictures of your pet in a matter of seconds for examination purposes. We use the digital radiograph to diagnose fractures, foreign bodies, bloat, and many other conditions that require urgent medical attention.
In House Laboratory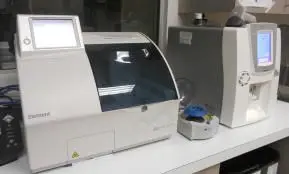 We have an in-house laboratory that includes a Heska Element DC Chemistry Analyzer. The electrolyte capabilities give us a fast assessment of the patient's condition during emergencies. It processes results quicker and offers enhanced patient staging. The lab allows us to do pre-operation blood work to ensure your pet safely undergoes anesthesia for surgery.
Emergency and Urgent Care
In case of emergency during our off hours you can contact the following 24 hour Emergency Care Center
Veterinary Specialty & Emergency Center (VSEC) vesecvet.com (215) 750-7884
Matthew J Ryan Hospital ( University of Penn.) (215) 898-4680
Centre for Animal Referral & Emergency Services (CARES) vetcares.com (215) 750-2774